We're happy to announce our latest addition to Conductor, Symphony start theme.
Symphony is a great starter theme that will give you more control over building your next WordPress project. We've baked in some really great features that unlock when you're using Symphony along side Conductor. A feature request we hear a lot is for the user to control the typography of Conductor widgets. Now you can do that and a whole bunch more with Symphony + Conductor.
New Theme and Pricing
Why a starter theme?
Conductor works on any WordPress theme, why do we need a starter theme?
Since the launch of Conductor, we've been taking in a lot of customer feedback and examining how folks have been using our product. While Conductor can work on your Genesis theme or even your Thesis 2 theme, there are instances where you might need some CSS to clean up the last 10% of a project.
Having a starter theme allows our users to use Conductor within our two primary use cases:
Rapid prototyping
For the base of a new WordPress project
As an agency, we often use Conductor to prototype a new project with our client. It can be either a marketing/brochure website or a more intricate publishing platform with unique content displays. Either way, we can produce a proof of concept fast and efficiently by leveraging the features found in the plugin. With Symphony, we can do this better, faster, and easier than ever before.
If you use our product to prove your concept, Symphony can serve as a solid base to mature the design and layout of the project. Simply install our one-click child theme plugin and you're off to building WordPress layouts the right way. We've spent a lot of time developing in the WordPress customizer and we feel we've delivered the maximum amount of options with the least amount of decisions to make.
Having options to quickly adjust overall website layout, alignment, colors, and fonts is just the beginning of what you can do when you unlock the power of Conductor + Symphony!
The Symphony starter theme
Please watch the video above to see some of the highlights of our new starter theme. Now that we've covered the reasoning behind our new starter theme, let's take a look at some of the included features:

Customizer Options
The WordPress customizer is one of the best places to provide custom display and layout options for your WordPress website. It's also a place that can become cluttered very fast if an author decides to include too many features. We spend a lot of time thinking about what is included to give you the best amount of features with the least amount of worry. Control the layout of your site, change colors, fonts, and more within Symphony.
Jetpack portfolio support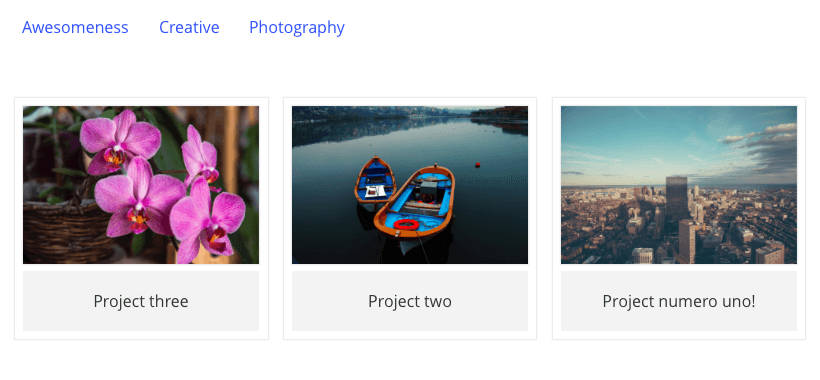 Jetpack has a great feature called Custom Content types.
We're specifically supporting their Projects Portfolio type with a special Conductor display called, 'portfolio'. This is a unique display that works within Symphony. Once you enable this add-on in Jetpack, Symphony will automatically recognize that you've turned it on and prepare your portfolio display for you.
Symphony will also display your portfolio categories in our secondary navigation header — building portfolio pages has never been easier!
Popular plugin support like WooCommerce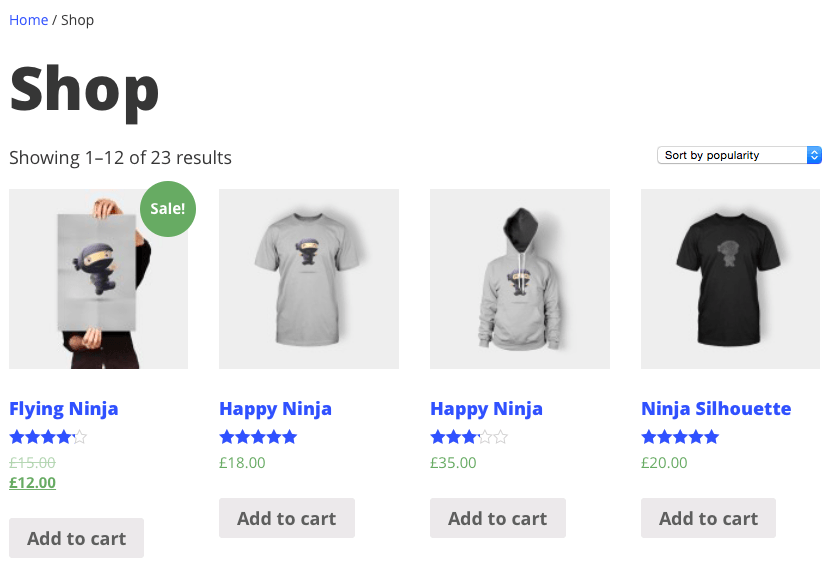 We're working with more plugin developers to add support to Conductor and Symphony every month. We already have an add-on to create new WooCommerce pages without code and now our theme supports Woo just as well. Create your own custom shopping pages or landing pages with WooCommerce and Symphony.
Symphony also supports other plugins like Yoast, Gravity Forms, NinjaForms, bbPress and more.
More control over Conductor Widgets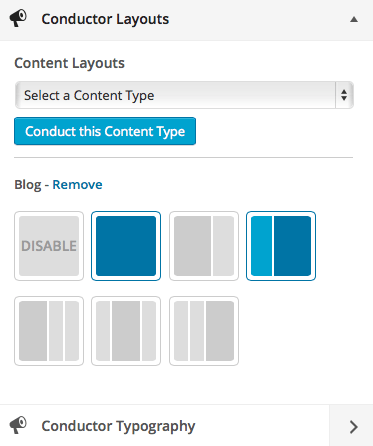 By far one of the most popular requests is the ability to control the typography of Conductor widgets.
Now you can when you use Symphony and Conductor together. You can make these changes from within the WordPress customizer, making building unique content displays even easier.
New pricing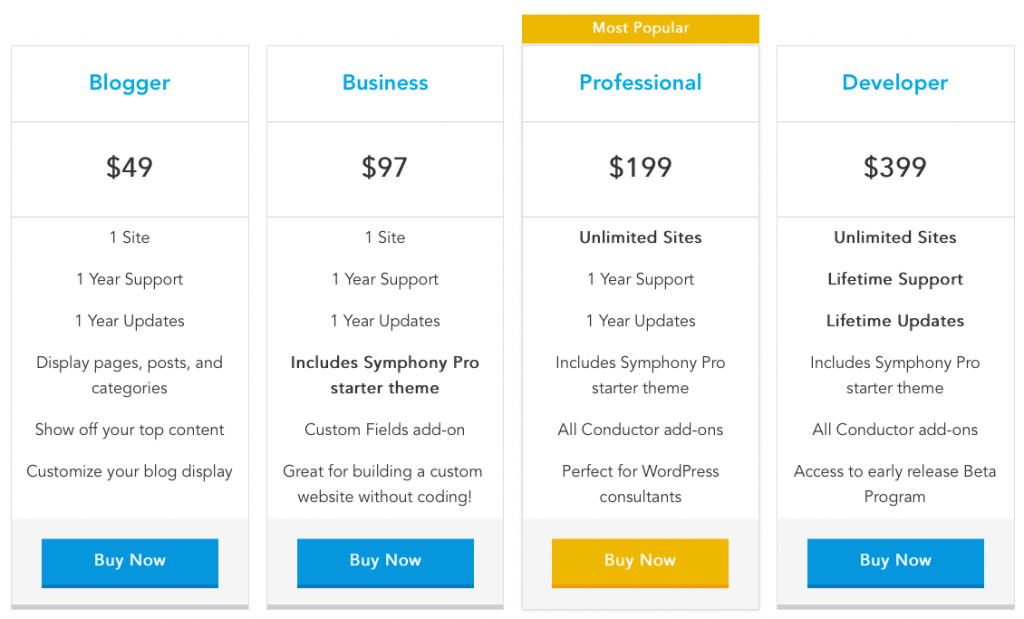 Conductor is even more affordable than ever before. Our blogger version now starts at $49! You can get all of the power of creating and organizing your content into unique displays on any WordPress theme at an affordable price.
For just $99 you can build your next WordPress site using Conductor and Symphony with custom field and custom post type support using our Business pack. Great for a site that requires more content display features for membership, directories, or e-commerce.
Finally, Professional (our best selling license) along with Developer packs get the ultimate boost. Not only do you gain access to all of our add-ons, now you can install Conductor on unlimited sites that you're working on. Our Developer version will grant you access to lifetime support and updates as we mature the product.
We're super excited and we hope you are too.
We want you to succeed
All of these changes are for you.
All of our customers have been upgraded to the latest offering. If you owned the old Blogger version before, you now have the Business license and if you had a 3 site license, you now have unlimited. Login and download your copy of Symphony Pro today.
And one more thing…
If you're thinking of becoming a customer you can save 20% today with code: SYMPHONY20 at checkout.
(Does not apply to Blogger version)
We know that choosing a strong foundation for your next WordPress project is critical in the decision making process. Not only do you need a set of tools that perform well, but you also want support from a team of professionals to help you when you need it. We're confident that our Conductor product is the perfect fit and invite you to try it today. We have a 14-day money back guarantee to back that up.
Give Conductor and Symphony a try today!