If your brand doesn't have some form of a solid content marketing plan in place, what are you waiting for?
In fact, many key influencers in our space are saying that your brand should mimic that of a media company. Gary Vaynerchuck is very vocal about this concept and constantly reinforces it in his podcast. If you happen to make it through an episode without him shouting "Content! Content! Content!" I'd suggest you run out and buy a lottery ticket.
Today, we're going to explore one avenue that will help position your WordPress website as your brand's dominate content marketing platform.

The daily blogger's story
There's this guy Chris Lema that you might have heard of. If you haven't, you're about to.
He's a huge proponent of daily blogging. He'll tell you it's good for your soul and he'll have you reflect on it's positive impacts in your life. In fact, the proof is in the  pudding.
I decided to dive deep into the annals of Chris' blog and uncovered a post from 4 years and 9 months ago titled, Resume Reviewer. This post was virtually covered in dust by the time I finally landed on page 83 of his blog — yes eighty-three! Even back then, he was helping people find jobs through publishing his words.
Becoming a daily blogger
You have to show up — you guessed it — everyday. Don't worry, you'll get better.
I invite you to scroll into the future of his blog. Notice how his topics become much more focused in and around the WordPress space. Step back from your monitor and realize how the structure of each post matures. Lessons are deliberate and delivered with passion — and always with a story.
But he's been doing it every day! 
Not in the beginning.
Success (for his blog) started to sprout when he began investing in the practice and discipline of daily blogging. Virtually unknown to the WordPress community then, he's become one of the most sought after speakers and a trusted advisor to many WordPress companies today.
So what does that mean for me? 
It means if you put in the work — and show up everyday — you can get yourself on the right track to drive more visitors to your website.
And let's get down to brass tacks shall we? That's why you're here.
You want to launch a blog for your brand, be it as a solopreneur or your boss tasked you with it. Blogging is the #1 outlet for today's new media. You're publishing words, photographs, video audio and a healthy cocktail of  each on occasion.
But here's the problem. 
So, let's say you miss a few days a year in your daily blogging conquest. You manage to scrap together 300 days out of the year to churn out some amazing content. Now, what about that compounding effect?
In just 1.5 years your blog contains 450 posts. Amazing! Platitudes-a-plenty!
Uh-oh…what the Hell do we do with all of this content? How can users find the content I want them to read and what if they want to dive into my knowledgeable business category?!
"WordPress archives!" you shout. Okay, but that's the problem. It's also a problem that daily bloggers like Chris suffer from. 
Here's an example: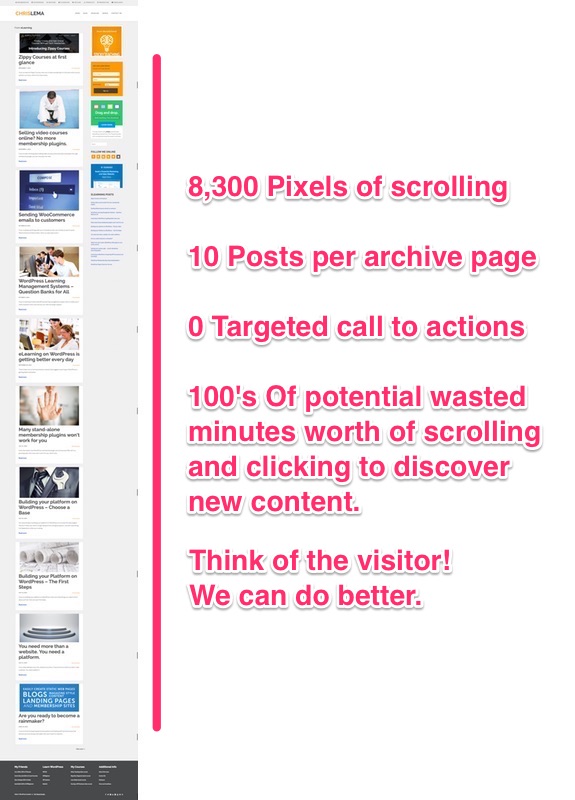 A better landing page for e-learning
I'd say Chris is most well known for his topics on membership and e-learning content. He's also offering up a course called Sticky Teaching, which I'll get to later. The graphic above depicts his e-learning category archive page.
Do you see the problem?
Now, let me set the record straight, this isn't a problem with Chris or how he setup his site, this is the normal out of the box experience with WordPress archive pages. Your average theme displays blog posts using an archive.php template file which generally follows some default blogroll-like display from index.php.
(If you want to learn the specifics of the template hierarchy — see this codex article.)
Let's fix this problem!
So depending on the amount of content your site has, this could lead to an arduous experience for your visitor. Some other reasons to fine-tine your archive pages?
Show a curated selection of content
Display call to actions relevant to the category archive
Lend a unique look and feel to each category throughout the site
Define unique sidebars for specific category archives
Let's solve this.
Creating content landing pages for WordPress
I'll use example content from Chris' site, I hope he doesn't mind.
The goal:
Create a better content landing page experience
Display curated content
Define call to actions
Upsell some product
The wireframe: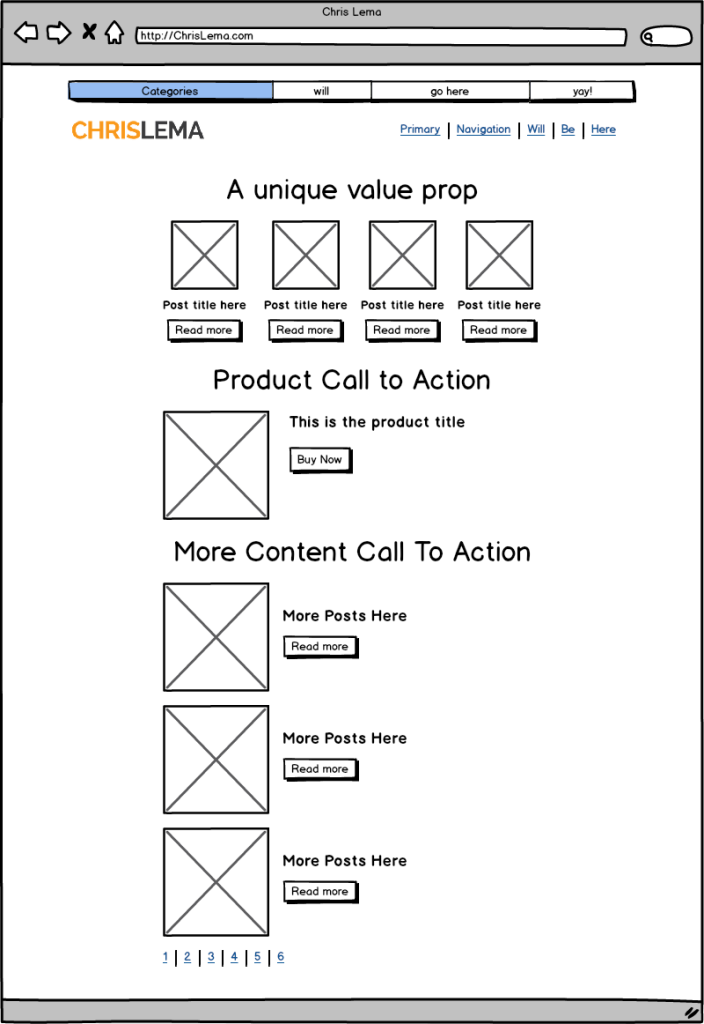 The breakdown:
Section 1 – Introduction: 
At top of our content landing page, we're displaying a unique value prop for the visitor. Why are they here and what can they expect to find on this page. A typical category page just displays the category label — no compelling copy.
By adding in some compelling copy we can hope to add some direction to the visitor to dive deeper into this category. This is also great for setting up "Getting started" or "About pages" for your blog.
You can use the Note add-on to achieve this.
Section 2 – The Upsell/CTA: 
Upsells and call-to-actions work great when you know the context.
Since we know they are looking at our e-learning category, we could serve up a unique call to action during this visit. This is the perfect time to upsell that course or product. In Chris' case, he's using WooCommerce as his e-commerce platform. Conductor can display a single or many products with the WooCommerce add-on.
Pro Tip: Create better landing pages for your WooCommerce shop
Section 3 – Discover more content: 
The final part of this example landing page is following up the visit with the remainder of the content.
Now that we've hit them with our latest curated bits of content and our product upsell, we invite them to continue scrolling down the page to discover the rest of the category content. Adding pagination is a snap with Conductor, simply tell it to show X number of posts with Y per page. 
Content landing page demo
Here's a video walktrough:
Here's the mockup of the completed page with notes: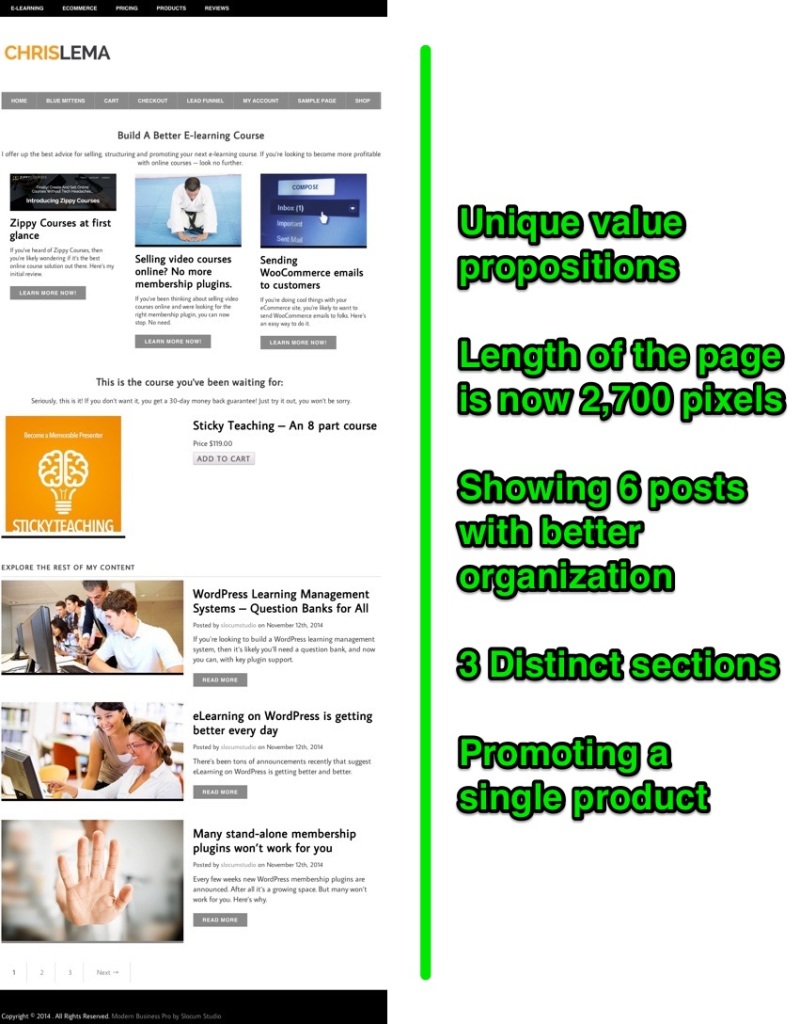 It's not over
I'm not saying this is the be-all and end-all for your WordPress archive pages.
If you're laser locked into fine-tuning your content marketing strategy this is a solid step in the right direction. You're spending hours creating awesome content and promoting it, so let's give it a little love when our visitors come to visit. It's a better experience for them and a chance for us to increase conversions.
Want to learn more about how Conductor can help you? Contact us. 
Want to learn to be a better presenter? Check this out.