Note is a simple and easy to use live text editor. There are a few options within Note that you should be familiar with before creating your own Note widget.
The Note Widget Panel
The Note Widget Panel lets you edit several options about your Note widget like:
The title

Editing the content

The CSS classes attached to the widget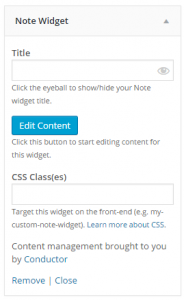 Editing Content
There are two ways to go about editing the content of your Note Widget. You can either click the Edit Content button in the Note widget panel (as shown above) or you can find your widget on the preview side of the WordPress Customizer and click on where your widget says Start typing here… (if there is content already in your Note widget Start typing here… will be replaced by your content, so you'd click on your content instead) this will create an insertion point on your widget so you can edit the content within the widget.