As a business owner, you can't allow your strategy to stagnate. You need to be on the lookout for new technologies, strategic initiatives, and process changes that you could implement to pull your company ahead of the competition. For example, by enhancing your company website's design for desktop and mobile usage with Slocum Studio, you can draw in more traffic and create an improved customer experience, driving higher sales in the long run.
Here are a few other ways to expand your business with innovative new ideas, like boosting your productivity with time management apps, utilizing a database that provides a single customer view, investing in educational marketing content, repurposing content across platforms, and more.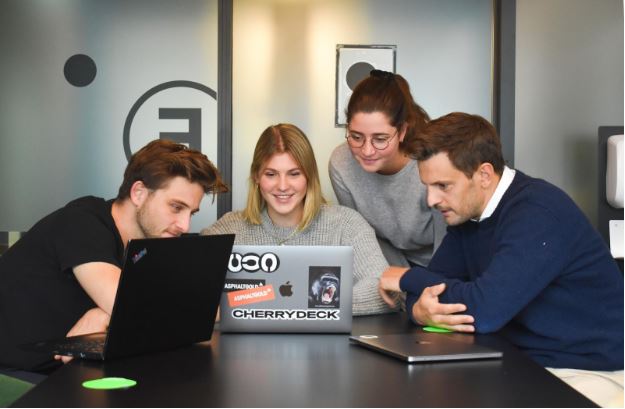 Maybe you're concerned that your team wastes time during the workday or that some of your standard processes are slowing you down. But you don't have specific data to prove this, so you're unsure how to solve the problem. 
Time Management Tools
If you're unsure how your team spends their time, you won't be able to identify workflow bottlenecks or develop potential process improvements to enhance your company's productivity. When it comes to time management, measurement is vital.
Mandating online time management tools is crucial to eliminate inefficiencies and accelerate productivity. For instance, you could utilize a time-tracking app on certain platforms or introduce a calendar app, allowing you to schedule meetings, track deadlines, and easily coordinate with your employees.
Soliciting Ideas
If you're short on inspiration, don't forget your most valuable resource for new ideas: your employees. As a leader, it never hurts to explicitly solicit ideas and recommendations from your team.
You might want to schedule regular brainstorming sessions to discuss different areas of your business. Alternatively, you can request your employees who handle other functions to join you for one-on-one meetings and ask for feedback pertaining to their specific areas of expertise.
Finally, don't forget to use performance reviews as another opportunity to check in with individual team members and find out what's working and what's not. If your employees are speaking up about certain issues preventing them from providing the best possible service to customers, take notice. Addressing these problems head-on when your team brings them up indicates that you care deeply about employee satisfaction and engagement.
Mobile Applications
Chances are, your customers aren't just working or shopping on their laptops at home or desktops at work. They're probably conducting transactions on their smartphones while they're out and about, too. Today, so many people use their smartphones for everything from ordering takeout to researching software products for their companies that you might lose business if you don't have a mobile application.
You'll likely need to work with an app developer to develop a custom mobile app for your business. This project is a big undertaking!
However, if you'd like to improve the design of your mobile website, you might be able to implement some minor tweaks that drastically improve the user experience on your own. For example, you'll want to ensure that you're using mobile-friendly fonts, ensuring that important on-screen elements will be within reach of the user's thumb, putting drop-down menus in the top left corner of the screen, and optimizing the page speeds.
Single Customer View
Your customer data might be siloed right now, and it can be tough to get a big-picture perspective of their personas and behaviors. Consider migrating to a database that provides a single customer view. This gives you a holistic, comprehensive understanding of your customer's preferences, brand interactions, and behavioral patterns spanning several channels and touchpoints.
You can monitor this information in a single, unified database for huge time savings. Using a single customer view will give you a deeper, more accurate understanding of your customers. You can leverage these insights to anticipate their needs and create personalized experiences relevant to their interests.
Supporting Remote Work
Maybe you've been working with a hybrid employment model for a while, but some of your employees have inquired about a possible shift to fully remote work down the line. Or perhaps your team has always worked in an office, yet you're wondering if you could make bigger strides forward if you laid the foundation for remote work in the future.
Remote work can open up exciting opportunities for your company. You can slash costs on renting an office space, seek out talent worldwide, and experiment with platforms that make virtual collaboration easy, like video conferencing software and digital whiteboards. By enabling remote work, you can grow your company and take on projects you never thought possible before.
Experimenting With Automation
Today, automation is a popular buzzword. But what can automation really do for your company? Before diving headfirst into trying to automate many key processes, take a step back to think about realistic use cases for automation in your internal systems. For example, you might be able to automate specific data analytics processes or install a chatbot on your company website while allowing your team to handle impactful data analysis projects manually or respond to complex customer support queries.
Ideally, you'll want to introduce automation that speeds up your processes and secures helpful cost savings without reducing the quality of your output. If you notice a drop in customer satisfaction after automating certain services, you may want to roll back the initiative. However, if you can maintain your customer satisfaction levels or even boost this metric while investing in automation, it's a smart move for your company!
Digital Marketing Channels
When it comes to digital marketing, there are practically endless opportunities to promote your business. Maybe you've put up a company blog, posted occasionally on social media, and tried to send out email newsletters regularly – but you haven't quite explored the full potential of your digital marketing strategy. For instance, you could consider expanding into video marketing or creating personalized email newsletters by segmenting your subscribers according to purchasing behaviors and demographics.
Furthermore, aiming for consistency in your marketing initiatives is a good idea. If you send out an email newsletter, make sure that it always ends up in your subscribers' inboxes on the exact dates according to schedule. When it comes to social media marketing, you can schedule posts ahead of time so that you don't have to handle this task manually day after day.
Educational Marketing
Marketing can serve many purposes. Yes, driving new sales by connecting with customers and creating a positive brand image is your ultimate goal – but you can also turn your marketing materials into educational content. For instance, you could cover industry trends for your company blog, talk to customers about interesting use cases for your products and publish those interviews, or even create how-to videos for your social media accounts.
Educating your audience through marketing can set your brand apart. This is a great way to establish your brand as an authority in your industry. Plus, you'll be able to build trust with your audience, and they will know that they can turn to you for in-depth product education.
Repurposing Content
Building out a complete content marketing strategy is a time-consuming task. You might feel like you must create unique content for many different channels simultaneously. Your team may be working on recording podcasts, writing long-form articles for the company blog, creating visual content and captions for social media, recording videos for a YouTube channel, and more. To free up time, why not try repurposing content?
Ascent Storycraft states that repurposing content allows you to use the same content across numerous marketing channels while putting a new spin on it to keep things fresh for your audience. For example, you could record a video podcast, release the transcription as an article on your company blog, allow people to listen to the audio on podcast apps and watch the full video on YouTube, pull lines from the transcript to use as tweets or captions on other social media platforms, put up short clips on TikTok or Instagram, or even take stills from the video to publish as photos on Instagram.
Working With Freelancers
Consider hiring freelancers or an agency if you need assistance with new projects beyond your team's skill set. This will allow you to move in new directions without hiring new full-time team members. You'd be surprised how much you can accomplish when you're open to working with freelancers and contractors!
Identifying and implementing new business growth techniques is a continuous learning process. As an entrepreneur, you'll never stop discovering new ways to expand your company and enhance your services – and your customers will thank you for it! Whether using a single customer view or experimenting with automation, you can spearhead positive changes within your company, no matter your industry or the size of your business.
Like this blog post?
Are you interested in maximizing your online growth? We can help with Web Strategy, Web Design & Development, SEO, and content writing. Talk to Us! Call: (857)400-8959