Long live the WordPress customizer.
By now, you've probably heard the reactions from developers and powerusers in regards to the sharp focus on the WordPress customizer. Wether you're for or against the customizer, there's no doubt this is an interesting "transition" time for themes & plugins.
Related posts
Conductor was born in the customizer and we're committed to innovating in this space. In today's Note plugin beta preview, we'll take a look at what we're introducing in the upcoming 1.2 release. Skip to the end to download 1.2 beta.
Video Update
Note and Front-end Layout Management
There's 3 major pieces to the Conductor software suite:
Conductor Core (Paid) – Easy content display and layout management.
Note (Free) – Front-end widget content editor. When combined with Conductor, you can display enhanced layouts.
Symphony Theme (Free) – A great starter theme for your Conductor projects. When combined with the above, you have feature-rich WordPress website building tool.
Note, is very much the visual and interactive part of our trifecta. You can write simple headlines or insert commonly used column grids to highlight features within pages. Of course, we're doing all of this, within the customizer and previewer.
New for 1.2 Beta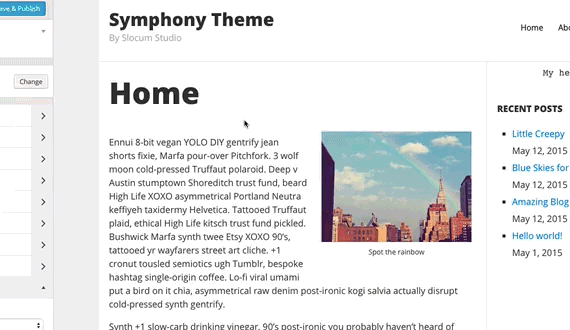 Insert sidebar UI
When you're in the customizer, simply hover over the before page/post content OR after regions, to reveal the insert sidebar tool. Activating a sidebar will register a traditional WordPress sidebar for you to insert a standard widget, Note widget, or Conductor widget.
Note will name the sidebar based on the page you're customizing and wether you've inserted the sidebar before or after the content.
Note quick edit buttons
Hovering over your newly created sidebar will prompt the quick edit button to appear.
Clicking the edit button will bring you directly to that sidebar in it's designated customizer panel. Hovering over the edit button will reveal the quick-add buttons for the WordPress widget panel, a Note widget, and a Conductor widget.
Clicking the x icon will prompt you to remove the sidebar you're editing.
Modal prompts
Upon adding or removing a sidebar, Note will prompt you to verify you want to perform that action.
Great for developers
Theme authors looking to allow their users to create content in the customizer should give Note a try.
If you spend any time in the Theme Review Team channel in Slack (https://make.wordpress.org/chat/,) there's a lot of chatter about theme authors using plugins to create content — and not the theme. For theme specific areas like a homepage call to action or horizontal services displays, Note is great for that.
You can extend Note's ability to add sidebars to your theme with the following code example:
https://gist.github.com/sdsweb/588cadd5100fc8133cfa
In the code above, we're allowing Note to add sidebars before & after our post title and before the nav menu. You can add this code snippet to your functions.php file.
Download Note 1.2 Beta
Ready to give it a try? Remember, we're still in beta, so do not use this on a production installation.