Today is a special day!
We shipped the latest version of Conductor with WordPress 4.0 support and it's Scott's birthday! Scott's the lead developer of Conductor and Director of Web for our parent company, Slocum Studio.
Let's take a look at some new key features in this release and find out how you can save 10% for our birthday celebration.
Making it easy to use WordPress customizer
You may have noticed the little shortcut buttons we've added into the WordPress customizer while you're working with Conductor. They are a very subtle attempt at saving loads of time maneuvering various widgets and sidebars.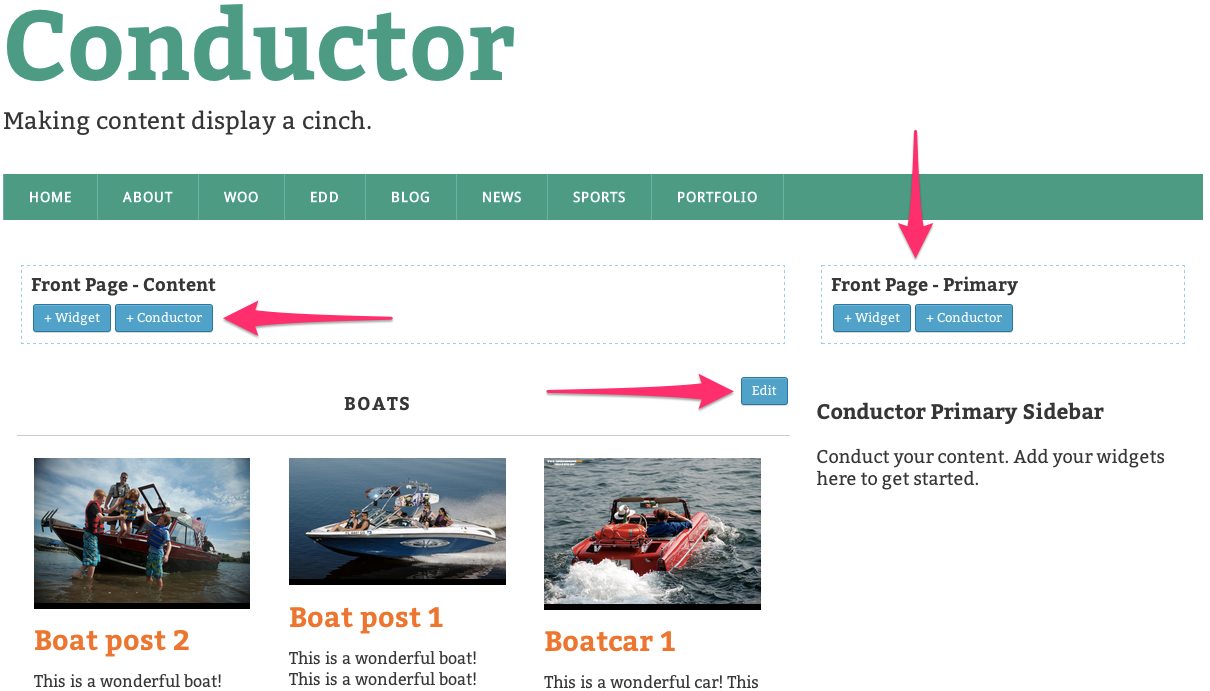 So, instead of navigating through which panel controls a designated sidebar location — simply click a shortcut button to add a widget to that sidebar location. Conductor sidebar locations are easy to spot by looking for the dashed outline and sidebar title name.
The customizer has given us a tremendous opportunity to visualize the layout of our content, we're just making it a touch easier to build our Conductor layouts with some subtle cues.
See it in action
Here's a look of clicking the Conductor shortcut buttons. As you can see, they quickly open up the WordPress 4.0 panels of the customizer and get you where you need to be — in the sidebar you need to be in.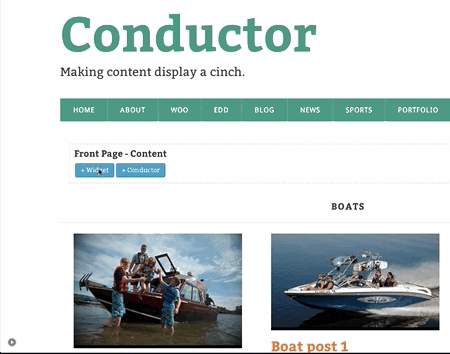 +Widget – This is used to add a traditional widget from your WordPress website. This makes building custom layouts and content displays with Conductor a more traditional drag and drop experience. This also gives you the opportunity to build pages using other widgets.
+Conductor – Quickly add a Conductor widget to the desired sidebar. By default, the widget will load in the last spot of your sidebar. Simply drag and drop the widget to your desired location.
Edit – Use the Edit shortcut button to quickly access the Conductor widget it's associated with. Again, this will help you access Conductor widgets faster without having to traverse through WordPress customizer panels.
24 Hours only: Say Happy Birthday, Save 10%
Let's all take a moment to wish Scott a Happy Birthday on Twitter! Now we'll provide you with a discount code, only valid for 24 hours, to save 10% on your Conductor purchase.
Use coupon code: HAPPYBDAYSCOTT at checkout!
Copy that code and select which version of Conductor is right for you.
Win a Conductor Poweruser license
The fun isn't over! Head over to our friends at FlagshipWP for a chance to win a Macbook Air, a copy of Conductor, and so much more!